Message from the Dean
A leader in health management: New initiatives for the second decade
The Graduate School of Health management was established in April 2005 to conduct cross-functional, interdisciplinary research into health and longevity, and is approaching its 10th anniversary. During this time, the experience of the Great East Japan Earthquake taught us the enormous risks that we face to our lives and health. In April 2014, the consumption tax was finally raised to provide funding for the enhancement of the social insurance system as Japan's demographics continue to age and we move from the glories of postwar economic growth to a more stable, mature society in which people enjoy long, healthy lives.
We continue to adapt and grow, and from Academic Year (AY) 2015 we will embark on new initiatives to address the changes taking place in society. To this point, the Course for Nursing, Course for Health Care Management and Course for Sports Management have offered two degrees: the Master of Science in Nursing and Master of Science in Health Management. Going forward, the Course for Health Care Management and Course for Sports Management will offer the Master of Science in Health Care Management and Master of Science in Sports Management respectively, and we will add a new Public Health Program that will award a Master of Science in Public Health upon completion of all required credits. The curriculum for the Certified Nurse Specialist (CNS) Course in the Course for Nursing will also be enhanced to provide a higher degree of professional training.
"Health management" is the general concept that informs the School, and it will only continue to grow in importance, but it is difficult to understand the professional training that our graduates have received with the current degree names. We also recognize a growing number of graduate schools in health administration, sports management and public health emerging over the past decade, and have therefore changed the names of our degrees to clarify what our graduates have studied and better enable them to build careers in the domestic and international arenas. We are committed to moving steadily forward over the next 10 years as a comprehensive, interdisciplinary component of Keio University focusing on health and longevity.
In September 2013, Tokyo was awarded the 2020 Olympics, which will mean that senior citizens who first saw the Tokyo Olympics of 1964 will be able to experience the games for a second time, and this has provided many of them with the inspiration and motivation to seek healthier lives. When the Olympics first came to Tokyo in 1964, Japan made considerable progress on social infrastructure thanks to the construction of the National Stadium, expressways, and numerous hotels. The Osaka Expo of 1970 celebrated Japan's emergence as one of the world's leading economies.
It remains to be seen whether the Tokyo Olympics of 2020 will shine as brightly as they did in 1964. The socioeconomic environment is much different than it was back then, and with the population aging and birthrates in decline, Japan faces many difficult choices, among them whether and how to accept foreign workers in the construction and nursing care areas. The world will be watching whether Japan, already the longest-lived country, will be able to achieve true maturity and prosperity, and this will be a key issue for us over the next decade.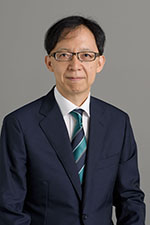 Dean of the Graduate School of Health Management
Toru Takebayashi